Chiller with natural refrigeration R744 (CO2)
Air condensed with modulating compressors - 96-480 kW (modular expandable)
CDA is the new range of water chillers designed for applications that depend on energy efficiency and environment friendliness. CDA chillers offer a low environmental impact because they use CO2 as the refrigerant fluid (R744), which has a GWP (Global Warming Potential) of 1. High efficiency/footprint ratios are attained thanks to the use of inverter-controlled compressors and finned pack heat exchangers with a large heat transfer surface area and installed in a V configuration.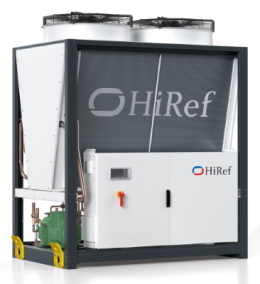 The highest efficiency levels are achieved, both at partial and rated loads, through adiabatic saturation technology, which lowers the temperature of the air entering the coils.
Refrigerant R744 is a natural gas widely found in nature with no use restrictions. In addition, it is inert, non-toxic and, more importantly, non-flammable, all of which contribute to reducing costs and the difficulties associated with installing the systems safely. This refrigerant can be widely used in the field of commercial refrigeration; among other things, it offers good thermodynamic performance due to its inherently favourable chemical and physical properties.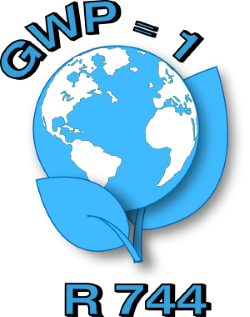 Configuration with very deep modular 'V' coils provides an extensive heat exchange surface area and therefore excellent thermal efficiency levels in relation to the unit footprint. Another particular feature is the material used for the coil tubes (copper/steel alloy) because it ensures mechanical resistance against high pressure levels (up to 130 bar) and heat exchange coefficients higher than with tubes made of only stainless steel. Single CDA units can be connected in parallel using special kits (on request) to achieve a modular configuration that can meet very high refrigeration capacities and guarantee high redundancy, with the system completely managed by the on-board electronics.
Versions:
Chiller
Free-Cooling Chiller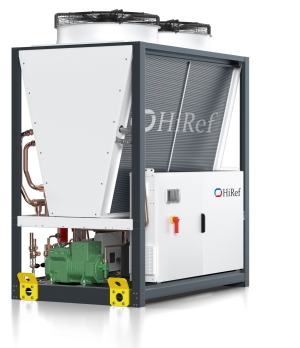 Features:
Transcritical CO2 application
GWP = 1
EC fans
Modulating compressors
1 or 2 refrigeration circuits
Stainless steel refrigeration circuits
Low pressure side (PS): 85 bar
Adiabatic cooling (optional)
Heat recovery (optional)