Your satisfaction is our top priority
Our committed and highly qualified colleague are dedicated to a high level of customer satisfaction on a daily basis and demonstrate our high service standards in all phases of cooperation. This starts with competent advice and continues with smooth commissioning. We pay particular attention to maximum plant efficiency and provide professional and complete logging and documentation.
Our service is rounded off by training and instruction of your operating personnel.
.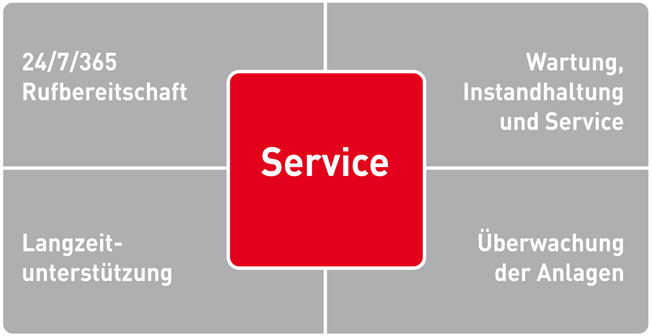 Maintenance, servicing and service
As a trustworthy partner, we always work on the system optimization of your plant. Energy efficiency and operational reliability are just as important to us as a long service life of the systems. Also on the subject of refrigerant conversion, we are at your side as an expert with words and deeds.
Long-term support
To ensure effectiveness and a long service life, we also offer long-term support and monitoring of the systems. Benefit from our comprehensive maintenance and support services and let us create your individual service concept.
24/7/365 on call
You can get quick help with emergencies and malfunctions via our service hotline. Thanks to our well-developed service infrastructure, we can quickly find the right solution for you. Immediate delivery of spare parts, mobile refrigeration systems and rental equipment round off our service portfolio.

If an on-call and service readiness on 365 days/year by the unit supplier is desired, a separate standby contract must be concluded for this.